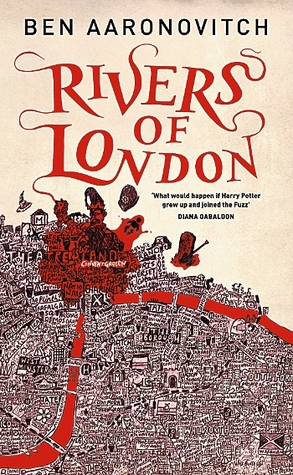 SOURCE: Borrowed from Katrina (Chased By My Imagination)
TYPE: Paperback
TITLE: Rivers of London
AUTHOR: Ben Aaronovitch
SERIES: Peter Grant #1
PAGES: 390
AVERAGE GOODREADS RATING:
3.91
/
5
MY RATING: 3/5
BLURB:
My name is Peter Grant, and until January I was a probationary constable in that mighty army for justice known to all right-thinking people as the Metropolitan Police Service, and to everyone else as the Filth.
My only concerns in life were how to avoid a transfer to the Case Progression Unit - We do paperwork so real coppers don't have to. Then one night I tried to take a witness statement from a man who was already dead but disturbingly voluble, and that led me to Inspector Nightingale, the last wizard in England. And that, as they say, is where the story really starts.
Now I'm a Detective Constable and a trainee wizard, and my world has become somewhat more complicated. There's something festering at the heart of the city I love, a malicious, vengeful spirit that takes ordinary Londoners and twists them into grotesque mannequins to act out its drama of violence and despair.
The spirit of riot and rebellion has awakened in the city, and it's falling to me to bring order out of chaos - or to die trying. Which, I don't mind telling you, would involve a hell of a lot of paperwork.


INITIAL THOUGHTS:
I bought this little gem for my sister's birthday this year, and (given her great review) I decided I wanted to give it a go! Particularly as it's set in London, somewhere that I'm familiar with.

OPENING:
The opening of this novel was seriously capturing. What better way to start a book but with a decapitated man lying in the middle of London in a pool of blood? I was interested from the word go which made me very happy and much more inclined to pick up and read the book when I had a spare moment to begin with.

CHARACTERS:
Peter was too much of a stereotypical man. From where I sat, he was too easily obsessed by women, but the novel didn't portray it that Peter was in the wrong for having lust towards them, it portrayed it so that the women were leading him there - as always.
Aside from this, the characters were okay on the whole. They made some silly decisions at times and they definitely weren't always interesting but they were all okay.
SETTING:
It's set in London (obviously), a beautiful place that is so busy and jumbled that it does make the story quite realistic. You can tell that Aaronovitch knows a lot about his setting, through the fact that the details throughout the novel are pretty much always on point as far as I can see. There's reference to some really famous places as well, but not necessarily the obvious ones which was also good to see.

OVERALL:
I gave this book a very average 3/5. The beginning was amazing and so capturing, but the rest of the book kind of lost me and left me a little disappointed - I wasn't even all that satisfied with the end. I just kept wanting more throughout the whole thing, and never got it. That's not to say I thought it was terrible, and I am glad that I read it because I do feel like I know London better now.