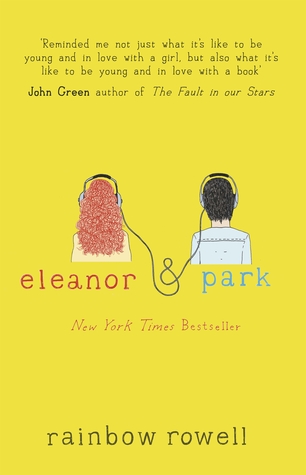 SOURCE:
Borrowed from Amy (That Hypermobile Girl)
TYPE: Paperback

TITLE: Eleanor & Park
AUTHOR: Rainbow Rowell
SERIES: -
PAGES: 325

AVERAGE GOODREADS RATING: 4.18/5
MY RATING: 5/5

BLURB:
Eleanor is the new girl in town, and with her chaotic family life, her mismatched clothes and unruly red hair, she couldn't stick out more if she tried.

Park is the boy at the back of the bus. Black T-shirts, headphones, head in a book - he thinks he's made himself invisible. But not to Eleanor... never to Eleanor.

Slowly, steadily, through late-night conversations and an ever-growing stack of mix tapes, Eleanor and Park fall for each other. They fall in love the way you do the first time, when you're young, and you feel as if you have nothing and everything to lose.

INITIAL THOUGHTS:
Having read "Landline" by Rainbow Rowell, I really wanted to read another of her novels, and everyone tells me this is her best. Luckily, Amy had it so it was the perfect opportunity for me to give it a go!

OPENING:
The opening is very ordinary in my opinion. The storyline, to begin with, feels like a lot of the clichéd stories about American high schools, so I wasn't really expecting much to start with. The story quickly became something much more exciting though!

CHARACTERS:
What a beautiful couple.
Eleanor is definitely not the stereotypical female used in romance stories, but she works beautifully in this one. Her character is so interesting and different, and that's kind of the point of the whole story.
Park conforms more, in my opinion, to the stereotypical male protagonist, however he does have his own flaws and differences that somehow allow him to become compatible with Eleanor.
The two of them work so well because they are very different from one another. They're definitely not what you'd imagine an ordinary couple to be like, but in their own way they are more than perfect.
SETTING:
The book is set in one little area of Omaha. You get a great sense in the contrasting lives the two characters have, purely because of the way the author has portrayed the story.

OVERALL:
I gave this book 5 stars. It was captivating and emotional and everything a good book should be. I loved the relationship between the two characters, and the dual perspective that is given, which allows you to have equal information on both of them. It's so interesting to read how they both respond to different situations as well. I started it, and got more and more into it as it went on. I literally adored everything about it and I'm desperate to read another of Rainbow Rowell's books soon.