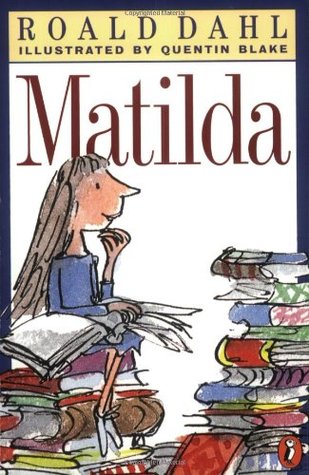 SOURCE: Kindle
TYPE: eBook
TITLE: Matilda
AUTHOR: Roald Dahl
SERIES: -
PAGES: -
AVERAGE GOODREADS RATING: 4.25/5
MY RATING: 4/5

BLURB:
Matilda's parents have called her some terrible things. The truth is, she's a genius and they're the stupid ones. Matilda is determined to get her own back and soon discovers she has a very special power.

WHAT I LIKED:
This was basically a throwback to my childhood which I really enjoyed doing (expect a lot more Dahl stories over the next few months).
I love the basic concept of the story, and the way that the story develops. Matilda's relationship with Miss Honey in comparison to that of her own family is so adorable to read about and there's a great sense of genuine care and respect between the pair.
Miss Trunchball is definitely as menacing as I remember her being, and I can't help but imagine the film version of her every time I read about her in the book. She's terrifying.
As this is a children's book, it's very short and to the point, and that was something else I really liked about this. It was a welcome break from reading long, overly descriptive novels and I'll definitely be picking up more of these stories as a little interlude from heavier texts in the future.
The illustrations, as always, were fantastic.

WHAT I DIDN'T LIKE:
The story didn't have the spark I remember it having when I was younger, which left me a little disappointed, although I guess it's probably to be expected.
I also found it ended pretty abruptly and would have quite liked to have known what happens in the future for Matilda.


OVERALL:
I gave this book a high four star rating. I contemplated five, but in comparison to other stories that I've given five, it really wasn't on the same level. It's a good little book to pick up and read if you want a small gap between heavier books, and it's definitely one I'd like to read to my children in the future!