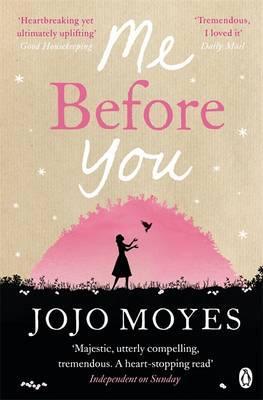 SOURCE: Borrowed from Amy
TYPE: Paperback
TITLE: Me Before You
AUTHOR: Jojo Moyes
SERIES: Me Before You #1
PAGES: 480
AVERAGE GOODREADS RATING: 4.37/5
MY RATING: 5/5

BLURB:
Lou Clark knows lots of things.
She knows how many footsteps there are between the bus stop and home. She knows she likes working in The Buttered Bun tea shop and she knows she might not love her boyfriend Patrick.
What Lou doesn't know is she's about to lose her job or that knowing what's coming is what keeps her sane.
Will Traynor knows his motorcycle accident took away his desire to live. He knows everything feels very small and rather joyless now, and he knows exactly how he's going to put a stop to that.
What Will doesn't know is that Lou is about to burst into his world in a riot of colour. And neither of them knows they're going to change the other for all time.

WHAT I LIKED:
The reason that this book is so amazing is due to the fact that it touches on such a controversial issue. The idea of discussing the quality of someone's life through a novel is something absolutely beautiful and incredibly touching. It made me really think, and absolutely devastated me at times. I was able to place myself in the shoes of so many of the different characters, particularly Lou, and it really made the story come to life for me.
The writing style is brilliant and Moyes manages to create characters that audiences can really respond to and relate to. She's clearly thought very hard about the direction she wants the novel to take, and it's not always the most expected route. It's an interesting love story that really did break my heart.

WHAT I DIDN'T LIKE:
Maybe the fact that the novel broke my heart into millions of tiny pieces is something I should dislike, but I actually really enjoyed the novel as a whole, and wouldn't have changed a single thing about it.


OVERALL:
I gave this book five stars simply because of it's brilliance. I've never read such a touching novel that talks about these issues before, and I really hope that more stuff like this is brought out in the future. I really connected with and empathised with the characters and I think most readers would, simply because they're such ordinary people in extraordinary situations. Please, if you get the chance, go and buy yourself a copy of this book. It's incredible.